Advanced Skin Needle Remodelling
Fractional lasers create vertical channels into the skin maintaining the integrity of the skin surface, but stimulating dermal processes leading to skin tightening and remodelling.
Derma FNS uses multiple needles that vertically pierce the skin to create similar vertical channels which are designed to achieve the same effect, with minimal epidermal damage. It is thought that it is the greater density of channels that leads to enhanced results over dermal rollers.
Derma FNS uses vertical insertions to create thousands of tiny holes in the skin causing the release of serum growth factors which stimulate the breakdown of old fibrous collagen and stimulate new collagen and Elastin development.

Derma FNS results are comparable to ablative treatments such as Fraxel, IPL and Laser Skin Resurfacing but at a fraction of the cost.
Advantages
• Better results – greater number of insertions
• Speed much faster, thousands of holes in seconds
• Shorter treatment times – can cut treatment time in half
• Adjustable needle depth with one needle head
• Less pain & faster recovery time than dermal Rollers
• Easy to treat under the eyes, side of the nose and across the top lip
• Minimal side effects
• No cross infection – disposable needles
• Treats many skin issues
Application and Effect
• Skin Tightening, lifting and rejuvenation
• Acne scars and wound healing
• Improves wrinkles and fine lines
• Minimises pore size
• Improves stretch marks
• Treats alopecia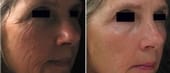 Why Derma FNS skin needling?
• Minimised epidermal damage means less pain and erythema
• Easy to maneuver around all facial contours with the benefit of adjustable needle heights, this means the Derma FNS skin needling can reach areas that the dermal rollers cant, such as around the nose and mouth
• Because of vertical delivery, needles easily penetrate scar tissue without risk of bending
• Create multiple insertions quickly
Dermal Rollers
• More painful with a lot more bleeding due to epidermal damage caused by flick and tear action
• Difficult to use in small or curved areas
• Difficult to insert needles into scar tissue – needles can be bent
• No needle height adjustment for areas such as eyes and lips

In Association with SkinMed
SkinMed are recognised as a highly professional and clinically focused aesthetic company. They have investigated the product quality, manufacturing and aseptic packaging and have agreed to represent Derma FNS skin needling in the UK and Ireland.
SkinMed work with Sk:n, BUPA Wellness, SPIRE, Nuffield Hospitals and other aesthetic organisations. They offer unique and proven protocols incorporating Enerpeel/Tebiskin remodeling solutions in tandem with Derma FNS treatments for box, ice pick and hypertrophic scars and also all types of skin remodelling, including stretch marks.
SkinMed clinical products are ideal for utilising with the DermaPen as they control skin issues, boost outcomes and prolong clinical results.
"The DermaPen is great! It didn't hurt at all and I could go back to work without an embarrassing red face. I'm excited now to see how my wrinkles start to fade away."
Casey S
Treats Burn Wounds and Scars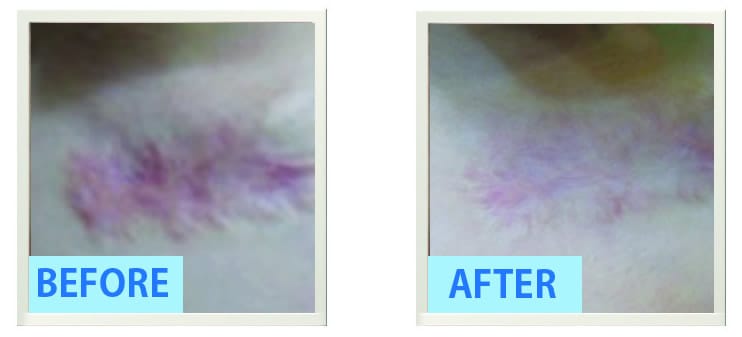 Pre and Post Treatment
After treatment you will look as though you have moderate to severe sunburn and your skin may feel warm and tighter than usual. This is normal and should subside after 1 to 2 hours, and will normally recover the same day or within 24 hours. Any undesirable post treatment reddening or discomfort can be controlled using Sensicure. To increase recovery times and get better results we recommend a skin care regime to go with your treatment.
Fillast Vials are applied to the skin immediately before treatment as a glide medium. This will also supply hyaluronic acid components (glucuronic acid and acetyl glucosamine) for increased HA synthesis. It also incorporates a hyaluronidase inhibitor to protect existing hyaluronic acid and a fibroblast stimulator.
Terproline EGF (epidermal growth factor) is used pre and post treatment to stimulate new fibroblast development and supply collagen and Elastin raw materials. This will enhance new fibre-development and increase replacement of old collagen and Elastin matrix.
If treating a specific skin condition such as acne, scars or pigmentation, then other preparatory & post products will be recommended.
Repeat treatments 4 to 6 weeks later depending on treatment application style & patient response.
Sensicure – Rapid Calming and De-sensitising
Synchrovit C – Free radical control including Superoxide plus melanin control
Thiospot – Triple Melanin control
Tebiskin UV – Factor 50 plus Uva and Uvb with calming and anti Erythema agents plus de-sensitising action
Fillast – Hyaluronic acid booster