There are namely three types of scarring, Hypertrophic Scarring which are raised, pink red, and limited to the site of original trauma. Keloid scarring which is raised, deep red-purple, and extend beyond the original traumatic border and Atrophic scarring which are saucer-like or ice pick indentations in the skin tissue.
Proper scar classification is important because differences in clinical scar characteristics determine the treatment protocol.
Atrophic scars are dermal depressions most commonly caused by collagen destruction during the course of an inflammatory skin disease such as cystic acne or varicella. Scarring after inflammatory or cystic acne can manifest as atrophic, saucerized, ice pick, or boxcar scars. While ice pick and boxcar scars respond best to dermal filler augmentation or punch excision, atrophic scars usually respond well to laser therapy.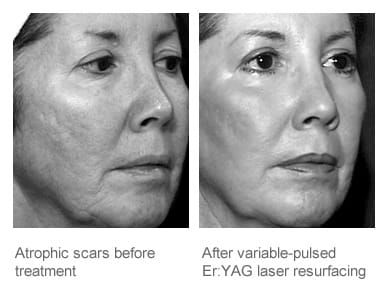 Reduction in the appearance of Atrophic scars, stretch marks (Which effects nearly 90% of women), and Acne Scarring, can be achieved using a combination of ablative Pixel fractional laser skin resurfacing and powerful volumetric Radio Frequency (EndyMed) treatment. More information can be found on these two treatments under the cosmetic treatments section.
A course of treatment using alternate treatments with each modality gradually reduces the depth and appearance of scarring and stretch marking. The number of treatments required will depend on the depth and severity of scarring and the treatment would be tailored for each individual.