C.A.C.I. Ultimate Aesthetic Treatment
The C.A.C.I. Ultimate as the name suggests really is the Ultimate cosmetic treatment system. As the very first treatment system to combine; Microcurrent face and body toning, Crystal Free Microdermabrasion, LED photo therapy and High Frequency stimulation, the C.A.C.I. Ultimate is truly the most versatile treatment system available. The system's multifunctional capabilities enable the operator to offer the most comprehensive range of non surgical treatment options, appealing to both male and female clients of all ages. The microcurrent toning phase uses a combination of specific waveforms and ultra low frequencies that work in harmony with the body's own bio-electrical field. The Ultimate features 45 preset programmes and an automatic sequential treatment mode for softening lines and wrinkles, facial toning, hand rejuvenation, cellulite smoothing, breast enhancement and body contouring.
Tiny electrical impulses are transmitted through unique cotton tipped probes. These low frequency electrical impulses communicate with the muscle fibres using a unique electro magnetic language that effectively re-charges the electrical energy potential of the muscle. The electrical energy stimulates and re-educates the muscles to either relax or contract. Consequently, muscle tone is improved, facial contours are re-defined and lines and wrinkles are softened and smoothed. The C.A.C.I. Ultimate as the name suggests really is the Ultimate aesthetic treatment system. The wrinkle comb phase combines LED photo stimulation with High Frequency electrical stimulation. The synergy of these two technologies effectively plumps out and softens deep lines, wrinkles, blemishes and stretch marks. The wrinkle comb is an alternative to collagen injections and other dermal fillers. The operator has the option to select either Red or Blue LED photo stimulation or an alternating pulsed LED mode that is particularly effective at treating acne. The Red LED light has a bio stimulatory effect on the tissue whereas the Blue LED light has an antibacterial and calming action on inflamed or irritated skin.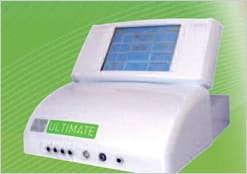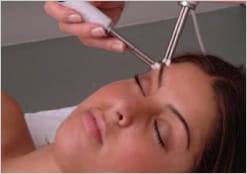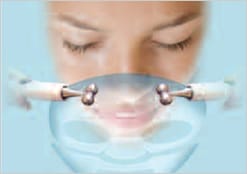 The microdermabrasion phase provides an innovative crystal free method of microdermabrasion combined with simultaneous LED light therapy. The combination of microdermabrasion and red and blue LED light is particularly effective when treating skin blemishes, acne scarring and sun damage. This new exfoliation technology is known as orbital microdermabrasion and uses a unique hand piece that rotates at different speeds on an elliptical axis. This unique method of microdermabrasion provides the operator with total peace of mind. In that, by being both crystal free and vacuum free it overcomes the many blockage, maintenance and downtime issues that are commonly associated with traditional crystal based microdermabrasion systems. A special massage head is also used in combination with LED phototherapy to massage the connective tissue thereby improving circulation and stimulating lymph drainage. The orbital rotation of the abrasive head performs a progressive and controlled skin exfoliation removing imperfections and impurities. Results are visible after just one treatment. By removing the superficial layer of skin the complexion is left clearer, smoother and more youthful looking. A selection of single use, disposable, abrasive treatment tips, coated with a layer of silicon carbide are used to either superficially or deeply exfoliate the epidermis.
For intensive hydration and skin firming, the Hydratone™ facial combines a special electrically conductive hylauronic gel mask with active microcurrent rollers. The hydrating gel mask becomes "charged" so that the whole face is bathed with rejuvenating energy.