Silhouette Soft PDO threads
WHAT IS SILHOUETTE SOFT® ?
In a few words:
SILHOUETTE SOFT® is a technological innovation offering men and women what no treatment has ever provided in such a simple way: a redefined face, restored volume and reduced wrinkles by means of a 30-minute treatment at their doctor's, for a result lasting up to 18 months.
SILHOUETTE SOFT® comes in the form of bidirectional absorbable thread cones. It is made in the United States and its development is based on six years of experience in suture suspension with cones used in reconstructive surgery and cosmetic surgery.
SILHOUETTE SOFT® is the only product on the cosmetic beauty market enabling two joint actions:
• A lift effect as soon as SILHOUETTE SOFT® is applied for an immediate and discreet result!
• A regenerative effect, for progressive and natural results!
In what cases is Silhouette Soft® indicated?
SILHOUETTE SOFT® is recommended for men and women of 30 and over who are trying to combat effectively the signs of ageing, who do not want any heavy and invasive treatment, but are looking for real and natural results. SILHOUETTE SOFT® treatment is suitable for all skin types – testing for allergic reactions proved negative in clinical studies. Nevertheless, the use of SILHOUETTE SOFT® is not recommended if you are allergic or sensitive to biomaterials. If you have severe ptosis or a great deal of excess skin, consult your doctor.
SILHOUETTE SOFT® can be used to treat different parts of the face :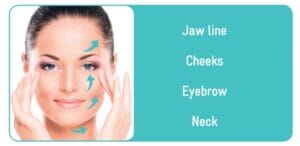 THE SILHOUETTE SOFT® TREATMENT(*) The number of sutures to be applied will be given by your Doctor depending on the area and desired result.
The 30-minute procedure
Applying Silhouette Soft® takes around 30 minutes in a doctor's surgery. After a small local anaesthetic, the doctor inserts the suture under the skin to a depth of about three to five millimetres. No incision is required, as the suture is inserted using a fine needle. It is held in place with absorbable cones oriented in opposite directions (bidirectional). Once the suture has been applied, the doctor performs slight compression of the tissue to reshape it by hand and to obtain the desired lifting effect. The non-inserted ends of the suture are cut off. One or more sutures may be applied, depending on the patient and treated area. Silhouette Soft® can be used as a single treatment or in combination with fillers and botulinum toxin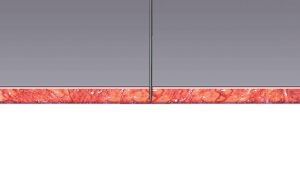 Insertion of the suture by means of a fine needle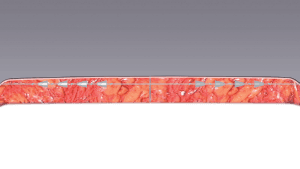 Suture applied under the skin and held in place by the bidirectional cones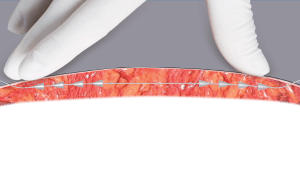 Compression of the tissue
The results in photo
Because we all need to see it to believe it, here are some pictures of patients before and after Silhouette Soft® treatment:
These photos have been published with the kind permission of Dr Rosalba Russo.