Instant results with no downtime
There are facials, and then there's HydraFacial. A non-invasive, non-surgical procedure that gives you instantly beautiful skin with no discomfort or downtime.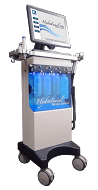 Why choose us?
We have more than 28 years of experience in skin treatments, and we're currently the only clinic in the region with a HydraFacial system. While we've been offering microdermabrasion and peels for years, we think HydraFacial is the best new technology for improving the surface of your skin.
What does treatment involve?
A HydraFacial treatment includes cleansing, exfoliation, extractions and hydration with infusions of antioxidants, peptides and hyaluronic acid. In other words, it's a high-tech way to take extremely good care of your skin.
There are 5 stages to a HydraFacial treatment:
1. Cleansing and exfoliation – removing the dead skin cells to reveal fresh, bright skin
2. Acid peel – a gentle peel that loosens dirt and debris without irritating your skin
3. Extractions – automatic suction to clean out your pores
4. Hydration – antioxidants and hyaluronic acid to nourish and protect
5. Protection – a final step to maintain and protect the results of your HydraFacial.
With each treatment, a series of HydroPeel® tips exfoliate your skin, removing dead skin cells with each pass. They easily dislodge and remove impurities and add hydrating, antioxidant skin solutions. The overall result is a fresh, nourished and hydrated face.
Dermaplaning (1hr)
Dermaplaning is a non-invasive procedure that carefully shaves away the top layers of the skin. It can help reduce the appearance of acne scars or pitted skin and of course it removes peach fuzz and dead skin. This treatment can be incorporated well with HydraFacial.
Come in for a consultation
We can tell you more about how HydraFacial works and the results it can give you when you come in to see us. There's no obligation – just request a callback or give us a ring on 01446 774980.